We appreciate your interest in donating your extra milk to the Minnesota Milk Bank for Babies. Your donations allow our non-profit organization to provide safe pasteurized donor human milk to premature and medically fragile infants in Minnesota and the Upper Midwest.
There is a high demand for milk donors and every drop of your precious milk counts!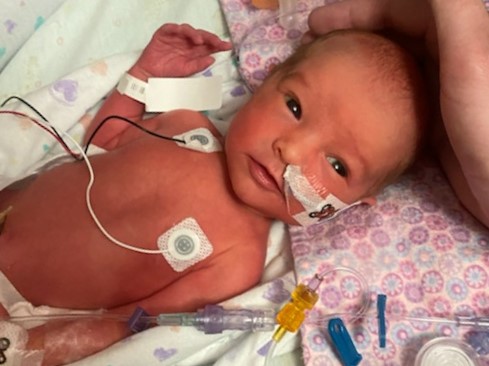 Donor Requirements
To ensure the safety of the milk, there are certain qualifications to meet in order to become an approved milk donor. Our milk donors are:
In good health
Collecting extra breastmilk beyond what their baby needs or milk that cannot be used by their baby
Not using tobacco products
Not using CBD oil, marijuana, or recreational drugs
Not drinking alcohol daily
Willing to donate a minimum of 150 oz. of frozen milk (if donating after an infant loss, any amount is welcome)
Only taking medications that are approved and safe for milk donation
At low risk, along with their sexual partner(s), for HIV/AIDS and other communicable diseases (e.g. hepatitis B or C, or syphilis)
We accept breast milk stored in the freezer for up to 6 months since the pump date.
We cannot accept breast milk pumped after baby's first birthday.
More questions?  
Please contact us at donatemilk@mnmilkbank.org or at 763-290-1865.
Ready to get started?
Outlined below is our screening process which takes about 3-6 weeks to complete. We cannot accept or hold milk donations until you are an approved donor (except for parents who have experienced an infant loss).
Submit an online donor interest form and schedule a phone screening. During this confidential interview, we will discuss your health history, including medications, illnesses, and risk of exposure to bloodborne pathogens. Please be prepared to share all medications taken since the birth of your baby as some medications may impact your ability to donate.
Complete the online application and consent forms. With your permission, we will contact your healthcare provider to confirm that becoming a milk donor is the right choice for you.
Visit a nearby lab for a one-time blood draw. The Milk Bank will pay for the blood draw and test expenses. The screening will be done for HIV, HTLV, syphilis, and hepatitis B & C.
When approved, drop off frozen milk at a depot near you. If you do not live close to a depot, we will work with you to coordinate best way to transport your frozen milk to the Milk Bank free of charge.